Services potty-trained children ages 3 to 5
PreK program for kindergarten readiness

Full and half day classes
Contact Us
Mondays through Thursdays from 8:00 a.m. to 3:00 p.m.

Phone number:
(928) 697-2401
Preschool Resources
Staff Resources
Employment and Volunteer Opportunities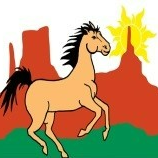 ABC Preschool Program
Learning starts the moment we are born and begin to process the world around us. At the ABC Preschool Program, we know that developing a love of learning at an early age lights the spark that can ignite a love of learning and fuel the quest for knowledge. Our trained educators create a positive and caring environment as they guide our littlest learners to build a strong educational foundation.
Welcome to Kayenta ABC Preschool Program and Special Education
Welcome to the ABC Preschool Program and Special Education! Thank you for the support over many, many years. Our parents are involved! Our parents are chaperones for winning sports and exciting activities, our parents are classroom volunteers, and many of our parents are teachers and school staff who contribute great leadership service to our scholars. Under the guidance of Superintendent Lemual Adson, leadership teams, and principals, we are working to continue tremendous parent involvement in our strategic planning. If we are thinking ahead, we always need extra hands for our great floats for this year's homecoming parade! Go Ponies!
We host two monthly meetings specifically for our parents. We host our monthly parent meeting at ABC Preschool where all parents receive program updates and where we are always available for questions or comment. For a schedule of meeting times, please contact Mrs. Grandson in our office at (928) 697-2401. Our ESS leadership team has "Ask Us Anything Meetings" monthly for all parents who have questions or comments about special education, gifted, and health programs. We always enjoy our parent conferences, IEP meetings, and individual meetings with parents! To schedule a personal meeting, please contact Mrs. John in our office at (928) 697-2400. We look forward to seeing you again soon!
Just a few of the wonderful contributions made by parents are our booths at all bazaars, the ABC Preschool "Pony" logo created by a parent competition winner, fully donated garden from the community, free movie experience by local businesses, special rodeo field trip, earth day clean up, vocational and agriculture FFA event participation, and township awarded winning floats. Thank you for your help!
Currently we are seeking parent volunteers for our mural project, our traditional garden, and tutoring program. Our dedicated team members are active in the community, please ask how to become involved in Kayenta and in local chapters school activities for special and early childhood education.
Enrolling Your Preschooler
When enrolling your child at Kayenta, please visit our school's front office to collect the appropriate paperwork, or utilize the documents on this page. Be sure to bring the following items with you to enroll your child:
Birth Certificate

Up-to-Date Immunization Record

Proof of AZ Residency

Proof of Guardianship (if you are not the student's parent)
If you have any questions concerning enrollment, contact our receptionist at (928) 697-2401.
Child Find
Child Find is a continuous process of public awareness activities, screening, and evaluation designed to locate, identify, and refer as early as possible all young children with disabilities and their families who are in need of Early Intervention Program (Part C) or preschool special education (Part B/619) services.
We schedule evaluations on Fridays from 9:00 a.m. to noon at the Kayenta Business Center. To make an appointment, please call (928) 697-2401. Please review available dates below:
KUSD #27 Child Find Schedule
August 4, 2023

September 1, 2023

October 6, 2023

November 3, 2023

December 1, 2023

January 5, 2024

February 2, 2024

March 1, 2024

April 12, 2024

May 3, 2024

June 7, 2024
Early Childhood Education Staff
Administration
Dr. Victoria Yazzie
Program Coordinator
Shonna Grandson
Receptionist
Laura Delmar
Itinerant Teacher / SAT Chair
Preschool Faculty & Staff
Virginia Arthur
Preschool Teacher
A.M./P.M. Sessions
PreK Faculty & Staff
Frances Adekai
PreK Teacher
Kristen Tacheene
ECE Teacher
Alliyah Walker
Technical Assistant
Britt Tallis
Teacher Assistant